Our Benefits
Title & Escrow Professionals, Streamline Signings with NotaryDash
Designed by industry experts for title and escrow professionals, NotaryDash is an innovative digital platform with live customer support designed to take the effort, stress and risk out of the notary signing process.
Find the Best Notaries in a Fraction of the Time
With NotaryDash you can access the best notaries for the job faster than ever before. Improved scheduling options reveal available and qualified notaries in the area who are ready and willing to complete signings when you are.
Manage Notaries with Ease
NotaryDash allows you to choose the appropriate level of interaction with notaries, manage them, verify credentials, make sure they understand security policies, follow ALTA's best practices and are compliant with Federal and State regulations.
Include Clients and Consumers in the Process
With NotaryDash you can provide real time updates to your clients and share secure information with their consumers.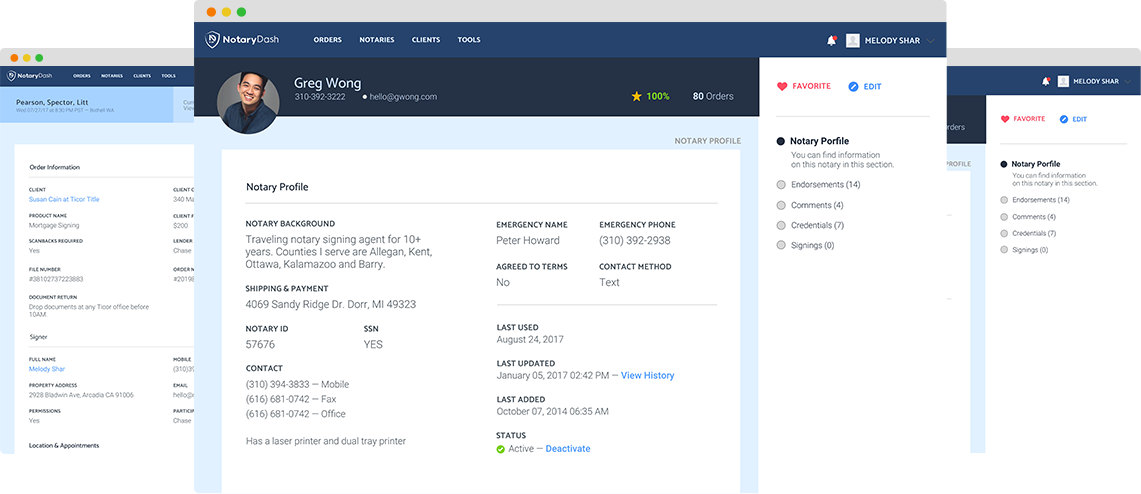 The Advantages of Notary
Dash
Signing set up available 24/7
Live phone support
Real-time updates
Customized pricing
Encrypted document transmittal
Protect Consumer's NPI
Exceeds ALTA's best practices
Compliant with regulations
Give NotaryDash a Try
Enter your email address and we'll contact you shortly. It's risk-free and easy. You can also give us a call at 1 (844) 252-6525